Bat calls
Using the batcorder you can record bat calls in highest quality. The device is optimized for echoe-free and omnidirectional recordings of bat calls. 500 kHz with 16bit amplitude resolution, a SNR of max 84 dB and calibrated mic sensitivity give best results.
Automatic
The recordings are taken fully automatically. Define start and stop time and within the scanning period all bat calls are recorded. Typical usage times are 10 or more nights with the normal battery pack. Possible due to intelligent power management resulting in 78mW power consumption.
Systematic
The batcorder is part of a complete survey system for automated recording, measuring and identification. Data is stored and presented in a clean interface and simplifies further analysis. A maximum of time saved and focusing on the essentials.
Call quality triggers recordings
Calibrated sensitivity
Omnidirectional mic
Comparability of locations
Temperature log (every 15 minutes)
Robust (weather resistent)
low power consumption
500 kHz / 16 bit
Sensitive: 16 to 150 kHz
Electret-Microphone
Adjustable quality trigger
Minimal frequency choose-able
Analysis threshold adjustable
Posttrigger (0 to 0.8 s)
3 recording modes
Easy to use
Reliable algorithms
external 6V/2.4 Ah NiMH battery pack
internal Li-Ion battery
Cordura® case
batcorder Software Update
Please check prerequisites before updating
Automated recording of bat calls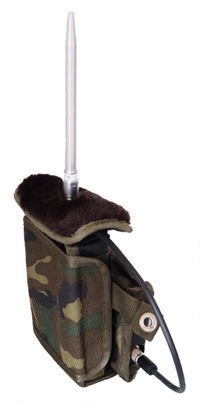 The batcorder is the worldwide first data recorder that distinguishes bat calls from other sound sources in real-time (online signal analysis). Calls are recorded digitally as call sequence. Thus, bat calls can easily be sampled automatically at nearly every possible location. Bush crickets and other sounds (wind, water, rustling of leafs, ...) are under most circumstances not recorded at all. Available in its third generation since 2013.
The batcorder was developed specifically to be used as autonomous recording devicein the field. It is not a conventional bat detector, bat calls are not played over headphones or loudspeaker. In contrast to other such devices each batcorder and its microphone are calibrated for a fixed sensitivity. Thus, the comparison of activity recorded at different locations is guaranteed. We compiled more information on calibration on an extra page.
State of the art technology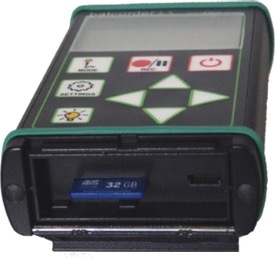 Using state-of-the-art technology made this bat detector possible. Recordings are stored on SDHC card, these are also used in many modern photo and video cameras. The batcorder samples sound at 500 kHz with 16 Bit amplitude resolution. Thus, it uses 1 MB of memory per second of sound recording. A SDHC card of 16 GB of memory allows to store around 15.000 typical bat recordings (each with approximately one second of duration). This is sufficient for activity sampling of 5 to 20 consecutive nights at most ground based locations. Setup on wind turbines recordings of more than 30 days usually fit onto the 16GB SDHC card.
Development of the batcorder was focused on simple usage of the device as well as on the omission of unnecessary functions. That way costs were minimized and run time was maximized. The batcorder is optimized for autonomous usage and its casing is weatherproof. Through intelligent algorithms and low-power consuming parts the batcorder reaches run-times of up to 220 hours with the supplied, external NiMH battery pack (6V / 2.4 Ah) + internal battery. This typically resembles 8 to 14 or more nights of usage in Auto+Timer mode.
Features
The batcorder is easy to use in your field work. The most important feature for you is recording bat calls, three different recording modi exist and are shortly explained here. For more details we invite you to download the batcorder manual.
Auto+Timer-Mode
The batcorder starts up at a user-chosen time (usually in the evening), and starts a recording when it encounters a valid call event. It then saves the incoming sound for as long as further calls are recognized within a chosen time interval (posttrigger time). At a user-chosen time (usually in the morning) the batcorder stops sampling again and shuts down to save battery power.
Auto-Mode
This mode is equivalent to the Auto+Timer mode, but the scanning for calls has to be initiated manually. The timer is deactivated and the batcorder runs until switched off again.
Manual-Mode
In this recording mode the call recognition algorithm is deactivated. Recordings are started/stopped manually by pressing the Rec key.
Temperature logging
The microphone rod (or disc respectively) holds a temperature sensor. This is queried every 15 minutes for the actual temperature which is added to the logfile. bcAdmin then extracts the temperatures for min and max values for each session. In addition the recording temperatures are interpolated. Various outputs are available as for example a graph giving activity in correlation to temperatures.
Accessories
The batcorder is delivered including a battery pack (incl. charging electronics and charger) and a cordura case for camouflage as well as protection and simple setup in the field.
Included in delivery
Cordura-case for camouflage and field set up
External battery back (NiMH) incl. charging electronics
Internal Li-Ion battery for runtimes of one to three nights
electret microphone (Knowles FG) with high omnidirectionality
transport case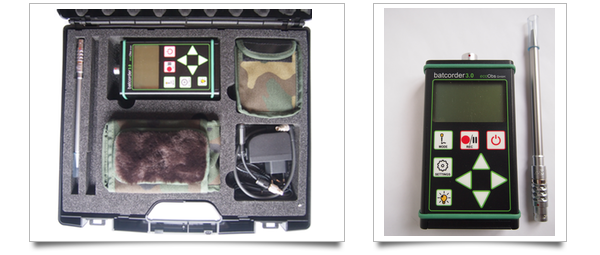 Optional
wind turbine extension for setting up the batcorder in a wind turbine nacelle
box extension for long term monitoring
12 V adapter for connecting a car battery
additional battery pack