The batcorder-system
Automatic recording of bat calls in real-time. Online call recognition. The leading solution for monitoring, FFH surveys, and bat consulting. Tools for professional bat work, saving money, helping you to finish your work in time.
The batcorder-system is a well established solution for acoustic monitoring of bats. Due to its high degree of automation it relieves you of a lot of work and thus saves not only time but also money. The hardware and software comes in various packages and there should be a product suitable for your monitoring needs. The base device for recording bats is the batcorder. A world-wide unique algorithm is responsible for triggering recordings on bat calls.
Call sequences are stored digitally in a high quality real-time recording. Our software bcAdmin manages the recordings for you in a clean and straight user interface. It searches for calls within recordings and takes measurements. Open-sourced batIdent uses well established algorithms to determine the species for each call. The results arte available to you through bcAdmin and can all be controlled manually.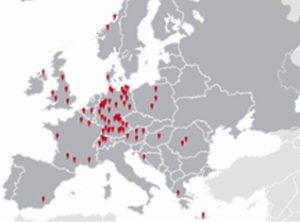 Use our system in manifold ways. General bat detection with ground based devices is done using the batcorder. Since more than 10 years long-term monitoring is possible for example with the box extension. Use it at sunny sites with no need to exchange batteries – sun for the solar panel is needed only. Or at underground sites, with its low power usage you will still get long runtimes.
The GSM-batcorder allows to establish long term monitoring with remote data access. Ideally a working dal connection is available together with a fixed power supply. Typically it is installed in wind turbine nacelles – we are the leading distributor for nacelle monitoring hardware with more than 3000 wind turbines sampled within the last 10 years.