Let us introduce to you services as well as extensions designed to improve the batcorder experience. These products were developed in cooperation with ecoObs. If you are interested to get listed here, feel free and contact us.
ABO Wind Bat Link
Bat Link is the perfect solution for remote access of GSM-batcorder data either by mobile network (4G) or land line. Bat Link is designed for use in wind turbines of all manufactures. It allows easy access to data from your office and thus makes visits to the site for sd card exchanges unnecessary. Since it is a full service offer, no own installation, network trouble or similar is necessary. ABO Wind offers a full service and solves all technical problems. Visit their homepage for more information.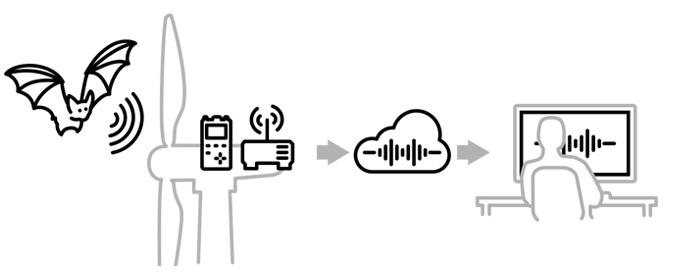 Batmonitor
Receive the daily status SMS of your batcorder or GSM-batcorder online using a server. No need to get woken up each morning by continuous incoming messages on your phone, no need to keep an overview of multiple devices. The server receives the messages and displays them in a simple to use interface. See Batmonitors homepage for details.